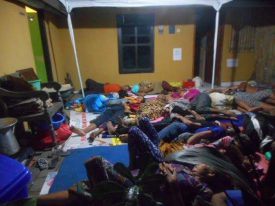 The Rumah Sehat team under the leadership of Diving Ving and founders Australians Ray & Sue Bishop work 24/7 to coordinate accommodation , food & medical assistance for up to 400 people who have had to leave their homes due to the MT Agung Volcano.
Many people & organisation have assisted with goods in kind . Including a group of Glen Innes Ladies ( Priscilla home town ) who are members of Wraps with Love.  
The Foundation has transferred Cash Funds to assist with goods that need to be purchased.