Back in 2009, Glen Rotarian Desmond Fitzgerald and his wife Sandy spent one month at Mama Sayang teaching English and was highly impressed by the kids living in that orphanage.
On their return to Glen Innes, The PHMF & Glen Innes Rotary agreed to jointly fund raise to bring a student from the orphanage to Australia for a chance of new learning experience outside his/her local school.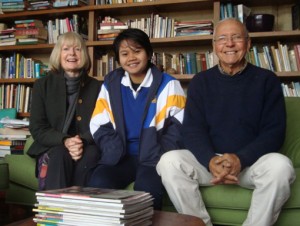 In September this year Ester Ekawati arrived in Glen Innes. Shown in the picture is Ester with Desmond & Sandy her first host family. Ester is attending Glen Innes High School for twelve months as a student.
To date she has attended Rotary Club meetings & two district meetings. Ester has also had a short visit to Sydney. Her friends back in the orphanage, classmates in both her schools were so thrilled to see pictures of that experience all over her Facebook wall. She has settled well into the colder climate too, reported Don Hall, PHMF founder in Glen Innes, Australia.
==========================================
Join our 8th Annual Golf Charity Tournament!
Click the banner below to email us your detail. Our golf organizer will contact you immediately.