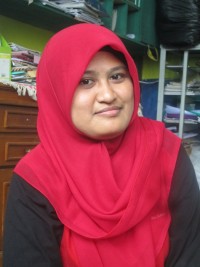 My name is Neneng. My parents work as the Villa keepers, the owner of the building lives in Jakarta. Their salaries are very low and depend on the commission. I am the third children form 7 siblings. My bigger siblings are Elementary School graduated and my younger siblings are elementary school students. I was myself  a drop out school student after graduated the Junior High School. My parents could not afford to pay my school fee. I was a drop out student for one year.Fortunately, a year after that I received the scholarship from Social Department through Yayasan Usaha Mulia Cipanas. I continued my study to High School until I graduated. My dream to be a teacher is about to be happening.
I realized that to pursuit my dream to be a teacher, having basic education is not enough. I was not able to operate computer, even though I learnt about computer in my school but it was not enough. The school did not have enough computers to practice, so we learnt about theory most of the time.
In 2012, I joined the PHMF-VTC. I enrolled Computer, Sewing Class and participated in Job Seeking Skill Workshop. Now, I am able to operate Microsoft office and internet very well. From the workshop I learnt many things. I was an introvert and shy girl, I found it hard to communicate with other people. The workshop taught me about soft skill and personal development that required in the working world. As a teacher, I need to have a good public speaking, able to adapt with the school environment, have a good way to communicate with the students. The lessons that I got from VTC support me doing my job very well. Since not many teachers at my school could use computer, the school headmaster trust me to take responsibility for the school computer administration.
The years on the VTC has changed my life into a better future. I am able to pursuit my dream to be a teacher and helps my family. I could not find a better word to say thank you for the opportunity that given to me, Thank you and May God bless you.