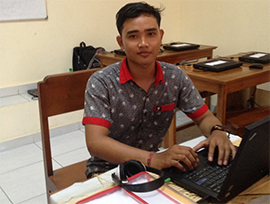 In August 2015 The Priscilla Hall Foundation had found an excellent location to establish a Vocational Training Centre in Bali at a existing Rotary Australia World Community Service project at Rumah Sehat .
We would like to introduce to you one of our teachers I Wayan Putu Eka Riavana.
I Wayan Putu Eka Riayana is 25 years old and he lives in Amlapura with his family.
He went to the Stikom University in Denpasar, learning business/management computer skills. He is a serious, shy young man who doesn't speak English very well. That is why we told him to follow the English classes too.
Since July he is teaching  three groups of students, total 38, he teaches them how to use the different programs, Excel, Word, Powerpoint. The next level will be Photoshop and a kind of Drawing program for designing logo's etc.
He developed the learning module himself, using books from the university.
Pak Ping told me Putu has the competence for the job able to transfer the information in a good way to the students.
During the short interview with Putu it took me a while to figure out what his hobbies are and what he likes about teaching.
First it seems he had no hobbies at all, except computers, but at last he told me he likes to travel.
Meaning, riding his motorbike with friends  in areas like Bedugul, Kintamani, GitGit, but more off road, like motor cross.
He likes to share his knowledge with poor people and hopes to develop good relationships, friendship with them. He has a heart in the right place.
He is not a big talker, but he mentioned that the classrooms are very hot and it would be good to have another fan there.