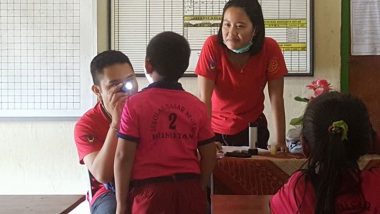 We have just received this report form Ray Bishop from Rumah Sehat that administers the Medical Clinic & the Priscilla Education Centre ( PEC ) 
The last PEC September course finished on the 5 December  we have decided not to start again until we get some relief from the volcano MT AGUNG.  We are not laying off our Computer teacher or English teacher. They are now  working at going up the mountain to isolated schools. Teaching health ,hygiene and English  along with our doctor and nurses. From 5pm to 9pm they go to the evacuee camps treating the sick. We want to keep them on as we hope to start the next PEC coarse in January/ Febuary .
We have upwards of 150 –  200 camped at our clinic and school at any given time your donation to us was really appreciated as our medicine costs have gone from 10000000 per month to 10000000 per 10 days so every one of our staff are flat strapped treating  any where from 75 – 100 people per day. 
We just keep doing the best we can as we feel we have to help every one we can. From Ray & Sue Bishop