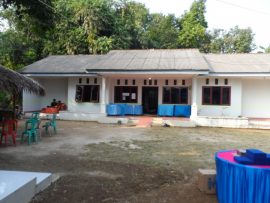 The Foundation since 2005 has partnered on many projects with ANZA to make a difference. A committee member in this case David Adams does a report. Here is David's report completed some time OK.
Yayasan Balarenik is a community based organization and was established on 18 December 2000 by a group of social workers. "Bala" means "troops/army" and "renik" means "small".
Initially the focus was on education for children, assisting poor families in getting access to health care, and obtaining documents such as birth certificates. Government services have greatly improved over the last couple of years. Children can now get free education at government schools, access health care through community health centres, and there are no longer obstacles to obtaining civil rights, such as birth certificates.
Since July 2016 Yayasan Balarenik has been focusing on giving special care to street children and the social rehabilitation of children who are SUBSTANCE DEPENDANT. YAYASAN BALARENIK run drug rehab programs (not hard drugs but for dependence on over the counter medication, glue etc) where teenage kids (predominantly boys) come for 4 months stints to get normalized. They also run other outreach programs for drop in support for at risk kids in Jakarta (and wish to expand to Bogor) and prevention programs (education on anti pornography and bullying). ANZA FUNDED THE PREVENTION CAMPAIGN IN 2018. Since they started in 2016 they have been refining the program and have less than 10% relapse for the residential program. ANZA Social Welfare contribute 4 juta monthly to support their running expenses.
While the kids are up at Bogor, other than their formal program, they don¹t have a lot to do (although PHMF gave a TV last year). They wish to build a new 90sq meter creative centre comprising of an area to provide
motorbike repair training, computer room  and library.
I have suggested some changes to the plan and cut a few items. There is more due diligence to be done but we should proceed for the following reasons:
1. our partner ANZA supports them
2. Despite some support from the government, they have very few sponsors
3. There are limited Yayasans doing what Yayasan Balarenik do for Jakarta Street Youth.
4. It is totally a Priscilla project that makes a difference by building an Educational Centre.