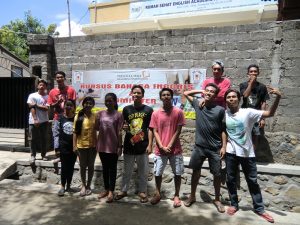 The first group of students started in October 2016 at the PRISCILLA EDUCATION CENTRE ( PEC ) One group of 15 students had finished junior/ senior Highschool. That is why they could come every day to The PRISCILLA EDUCATION CENTRE  ( PEC ) at 10 AM for 2 hours English- and 2 hours Computer class. These were the intensive students.
The other group had 35 (regular) students. They came every day at 8 AM before they went to High school. They came for 2 hours English one day and 2 hours computer class the other day. At PEC they learned to speak and write basic English with the focus on the Tourist Industry. They did play roles to practice their conversation skills and were also trained in Hospitality and Job interview
The English teacher Edi is a local who studied English. With help of volunteers he follows the Government Curriculum and our Syllabus.To practice and improve their computer skills, Putu taught  them how to use Word, Excel, PowerPoint and Cashier. Later he added a special Designing program.
During the 6 month course 3 intensive students and 5 regular students left or were turned away because they did not come regularly and were not motivated to learn. PEC has a policy that they should not be absent for more than 5 days in a row. If they are absent, need to go to a ceremony for example, they need to bring a letter signed by their parents. This way we would like to make them feel more responsible and serious about their opportunity to learn at PEC .