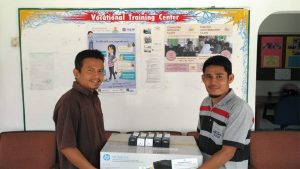 Not every household in Cipanas, West Java, owns a computer and has internet.  Computer and internet access at home is still a luxury item for the inhabitants in the area. Even though many people have mobile phones and are familiar in using internet (mainly for social media), accessing the internet with a computer (which is mostly for researching information) is different.
We all know that the use of internet is essential to life today. In relation to work, it is used for applying online and sending documents for the job application. For students, the internet is used to get information and data for their school homework. Therefore to fill this need, since May 2018, the YUM-VTC rents computers with internet connection and also offers a printing facility. This project commenced with 4 computers and 1 old printer. Every month, around 65 – 80 visitors use the facility. This project is also generates YUM an income- this initiative keeps the VTC sustainable.
This month we received a donation from the Priscilla Hall Memorial Foundation to buy one more printer and also paper to support this little project.
Thank you PHMF! Your generosity and thoughtful support is really precious for us!