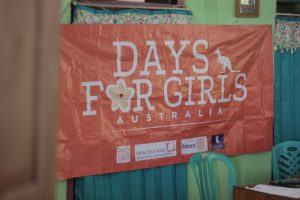 Our project collaborated with Priscilla Hall Memorial Foundation, specifically for girls, called Days for Girls also organized in SMP Yasuari Noetoko this September 2019.
The students learned about reproduction health including menstruation period and how to use a washable pad that can be used to substitute the commercial sanitary pad. We are fighting for the basic needs of women and it is starting with girls in high school. Commonly women have used commercial sanitary to soak up their menstrual blood. But not all people have access and money to provide it. Moreover, the geographical location sometimes delimitates people in the region to get it. We focus on what we should do and what we can do right now to save our planet. This strategy aims to make the young generation not only aware of and change their attitudes related to woman's health but also caring about the environmental issue to save our planet through our daily activities.
---
Proyek kami berkolaborasi dengan Priscila Hall Memorial Foundation, khusus untuk anak perempuan, yang disebut Days for Girls juga diselenggarakan di SMP Yasuari Noetoko pada September 2019 ini.
Para siswa belajar tentang kesehatan reproduksi termasuk periode menstruasi dan bagaimana menggunakan pembalut yang dapat digunakan untuk menggantikan pembalut wanita komersial. Kami berjuang untuk kebutuhan dasar wanita dan ini dimulai dengan anak perempuan di sekolah menengah. Umumnya wanita telah menggunakan sanitasi komersial untuk menyerap darah menstruasi mereka. Tetapi tidak semua orang memiliki akses dan uang untuk menyediakannya. Selain itu, lokasi geografis terkadang membatasi orang-orang di wilayah tersebut untuk mendapatkannya. Kita fokus pada apa yang harus kita lakukan dan apa yang bisa kita lakukan sekarang untuk menyelamatkan planet kita. Strategi ini bertujuan untuk membuat generasi muda tidak hanya sadar dan mengubah sikap mereka terkait dengan kesehatan wanita tetapi juga peduli dengan masalah lingkungan untuk menyelamatkan planet kita melalui kegiatan sehari-hari kita.
Day for Girls Kits Distributed