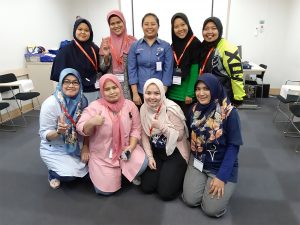 On September 24th 2019, four staff of Foundation for Mother & Child Health (FMCH) Indonesia, consisted of two Early Learning Center (ELC) teachers from Cipete and Bojonggede site, midwife and nutritionist, attended First Aid Course for Child and infant that was conducted by International SOS in Jakarta. The course was suggested and sponsored by Don Hall from Priscilla Hall Memorial Foundation for FMCH's staffs because our staffs work closely with children and infants so it will be a necessary to know what to do when an accident and emergency situation happen. The course is also important to give us knowledge, skills and confidence to provide medical assistance until the arrival of, or transfer to, professional medical support services.
In this one day course, we learned several topics about first aid essential; cardio pulmonary resuscitation (CPR); recovery position; choking management for child and infants; minor wounds, burns and bleeding; fainting and shock; bone, joint, and muscle injuries; drowning; and common medical problems in children and infants (anaphylactic and epinephrine injection usage, seizure, asthma). We also received first aid workbook that can be used to check and refresh our knowledge. After we finished the course, we will certificate of attendance that has no expiry date and certificate of competence (valid for two years) after we fulfilled the requirement of attending the whole session of the course; achieved 75% in the written test; and achieved 90% in Practical Test. There were eight participants who joined the course and all of the participants in the training will received two categorized of certification because we have fulfilled the criteria of the requirement.
After we completed the course, we were very happy and grateful because we could participate in this educational and practical course. We also realized that accidents can happen anytime and anywhere, especially in children, so the knowledge for what to do when an accident does happen is critical and important. But most of the mothers in our community don't have the privilege to access and/or receive first aid training. That's why, our health staffs are considering to share this useful information for parents, to give them confidence to handle their children in an emergency situations.