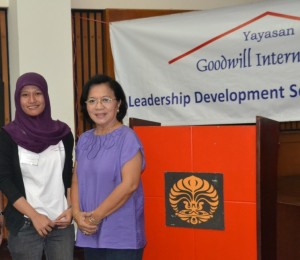 Dear Priscilla Hall Memorial Foundation/Australian New Zealand Association
 Thank you for your support in the last year. Your support has allowed me to concentrate on my studies and helped me do well. Thank you also for continuing to be my sponsor for the academic year 2012. In the last year my accomplishments were gratified. I was proud with my result in both academic and the other activities beyond academic.
The Goodwill Leadership Development Training Program has helped me become more commited to my self, increase my motivation to be success woman and can manage my time in reach my progress. During the Goodwill training I followed spedial training kinasih, letter writing, community service, mind management, and leadership training. This training teach me many skills, how to be a success become a good leader and can improve my english. I appreciate for all of training I joined.
            As a plan, this year I will continue my study in nursing profession that needs much money. I still want to reach my dream to be professional nurse. I hope I can do the best for my profession and people around me. Support from Priscilla Hall Memorial Foundation / Australian New Zealand Association  (ANZA) is really necessary to me. I open any time for my sponsors to give training such a motivation, correction, or other form of support that will make stand for my goals.
Sincerely,
Jemirda Sundari Y