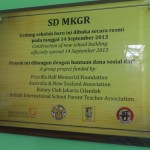 It is nice to visit a project some time after its completion .. We would like to share the photos of the visit with you . It is interesting to read the initial report below & image the school compared with today . The new building has allowed a further 30 children to attend school .
REPORT : The school is located on a busy road among mixed small businesses and makeshift residential housing. It borders a muddy  stream which flows quite quickly but apparently does not flood. It is dirty and polluted. Currently there is no fencing between this and the school.The area and buildings are tiny with particularly low ceilings and do not best utilise the minimal space. The classrooms are not adequately sized to accommodate children and materials.The roof is too low so unbearably hot in classes.and alongside the stream.When we visited, the children were studying at big old wooden desks for exams. All space was in use.The library was tiny, like a store cupboard, also being used as a classroom
There was a sense of commitment and enthusiasm across the school, most apparent in the professional approach of the uniformed teachers.
This school prides itself on its high quality education, evident in the national exam results.