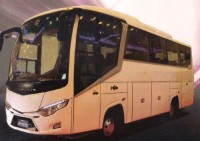 In December 2013 when Don Hall  from Australia  was visiting Mama Sayang the most pressing need was a replacement Bus . The Foundation had done major repairs in 2009 to keep the bus on the road but it was now doubtful how long it could be safely keep on the road . After discussions it was decided that a Bus fund should be established & the Foundation commenced the fund with a US$5000.00 donation . The fund had a very slow start but thanks to Major Indonesian Companies & private people the Funds have exceeded the original target . This has allowed a order to be placed for a new Coach to be built. We would like to share extracts of Mike Hillaird's comments from the Mama Sayang Bus Fund  web site .
On  15 January I announced that we surpassed our Rp350 million target by Rp30 million for a total of Rp380 million for our coach (it's been upgraded from a bus!) fund. Being modest as we are, that budget was for a good condition 30-seater used coach (I never imagined we would be able to raise more than that).
Then something happened. We received another donation from an unexpected source (and first time corporate donor for us at Mama Sayang) bringing our total to Rp450 million. We then got three important pieces of information:
1. Due to a new law, coaches older than 10 years will not be able to enter Jakarta;
2. With the rupiah at Rp12,800 the only used coaches that met our budget were 4 years old, meaning we would only have 6 years out of it and would have to buy as-is with no warranty, and
3. We received a quote for a BRAND NEW Mitsubishi 30-seater  for Rp630 million. This coach is ideal for us and will serve us perfectly.
After much thought and prayer we have decided to choose the option of this new coach and have paid the Rp450 million as a down payment. Once the coach is ready to be delivered in June 2015 we will have to pay the balance of Rp180 million, and I have already received positive indications some several donors that this won't be a problem.