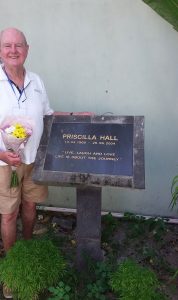 On my arrival I was pleased to go to the Memorial Garden & place flowers on Priscilla's Plaque. A special area at JOH that acknowledges the lost that families can have of a loved one.
The Foundation supports the children by supplying FRESH MILK which is a important for young children in their early years. I was pleased to visit the Medical room where on the advice of the JOH Australian volunteer Leanne Clare the Foundation funded medical supplies, refrigerator, weighing scales & filing cabinet .Leanne is training the JOH nurse in a improved program to monitor the childrens health.
Our first project some years had been to extent the size of the dining area. So I had a visit to the Kitchen where I noticed the bright coloured tables that the paint had been supplied by the Staff at the Glen Innes Super Strawberry.
I also meet a young man who has been at JOH for 5 years & was currently doing a internship at a local Hotel. This is excellent that when the time arrives to leave JOH assists with finding a job.