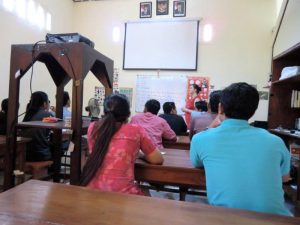 After 6 months at Priscilla Education Centre (PEC) the first group of intensive students finished the course.
There were 12 students left to place for a job training.
Most of them are working in South Bali, in Gianyar, where they will have more opportunities
It was a big change for them, leaving their family homes and living on their own in rooms near the working place.
Four of the boys were placed  in a Hotel. It is nice they have each other, makes it a bit easier for them. When they have a day off they go to their family homes.  They also visit the PEC and tell how they enjoy working and you can hear how they improve their English.
They do different jobs in the hotel, waiter, bartender and they change sometimes so they learn different skills.
One of the girls got a place in a Spa. First she started at the reception and later she had the to learn Balinese Massage and now she is also learning Reflexology.
Two boys wanted to work with the Police and are waiting for the approval.
Some other students decided to study some more.
This all is possible because of the support of Priscilla Education Centre (PEC).
Hopefully they will be able to improve their quality of life and that of their families and maybe even that of their community.
The group of regular students is going to finish their High School first, but for them it is possible to come back to the Priscilla Education Centre after graduation.