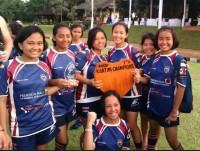 The Jakarta Komodos Junior Women's Rugby Team ended a three-year wait for tournament success with a victory at the Rugbypass.com Nusantara 7s tournament at Jagorawi on Saturday.
Two teams, Komodos Red and White, competed in the Kartini Cup segment of the tournament against teams from Universitas Negeri Jakarta (UNJ) and Bandung. UNJ, just back from a tournament in India where they represented Indonesia in the Chennai 7s, faced Komodos White in the final after a number of hard-fought pool and semi-final games in the morning and early afternoon.
Two first-half tried to the Komodos established early dominance in a game that was characterized by Fijian-style passing and brutal defense. Assistant coach Aaron Meadows said, "Bloomin' heck, some of the hits took me back to my days of watching rugby league games in Queensland," adding it was a real joy to watch the girls tackling anything that moved.
Head coach Stephen Barber said that after three years of hard work on the training paddock and playing in Jakarta Schools Tournaments, this was the first time that most of the young ladies from the Jakarta Komodos had come up against older players.
"The thing that the Komodos had in their favour was experience and a willingness to tackle anything that moved on the pitch. While we played as two teams on the day, all of the young ladies and the coaches were united in one goal of winning the inaugural Kartini Cup and earning the title of the best Indonesian Women's Rugby Team," Barber said.
Barber said the real winner on the day was women's rugby in Indonesia as this was the first time that a four team competition had ever been held. "This goes down as a real credit to PRUI [Persatuan Rugby Union Indonesia] for allowing this tournament to go ahead following my push and to all the young ladies from the Komodos, UNJ and Bandung for willing themselves on to become rugby players," he said. "I am very proud of all of these ladies and in particular the Komodos ladies and the core group of Mama Sayang girls who I have been fortunate enough to coach over the past three years