R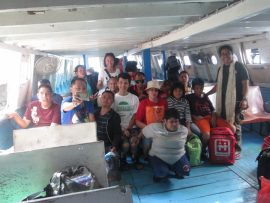 AWANALA was an early project for the Foundation. We supplied a trampoline , partnered in painting the building & establishing the  Audio room . It is a joy to listen to the BAND playing.
We are pleased to have been invited by ANZA to co-sponsor this outing with The Australian Embassy 
 Rawinala Band went on a trip to Tidung Island.  It was located on the Thousand Islands, about 3 hour boat ride from Muara Karang.  The trip was intended as a reward for the Band, who had worked really hard on advocating and fund raising through their performance on many occasions.  They were accompanied by the teachers and everyone who were involved in Rawinala's PR Team.
The trip gave a new experience for the band.  They tried snorkeling, banana boating, and fishing.  Most of them have never ridden a boat, and some of them have never even visited   the beach and played in the sand before this trip.  They wanted to play on the beach all day because they enjoyed the smell of fresh air and the sea. They went home with some beautiful memories.