The PHMF has been assisting RMD since February 2009 .This is the storey of Sam a NZ school boy who took tennis balls to RMD recently  ..WE ha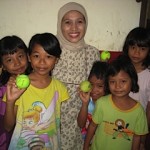 ve four photo to show you & these are the details :
Sam in the tiny, hot, dark dorm that sleeps two children to a bed. Others sleep on mattresses on the floor. They have one small cupboard each for everything Ibu Maryani with proud owners of the tennis balls we took out and named for each child. One little girl put hers away immediately so no one would take it from her… Making a mix of Bahasa Indonesia and English words with scrabble The creativeness of children..a few shoes and skittles and here we have a bowling alley!!