Picking up a rugby ball and joining a team has been a life-changing event for numerous Indonesian children from underprivileged backgrounds. It's thanks to the support of sponsors that the Jakarta Komodos Rugby Football Club (JKRFC) is able to continue offering Indonesian kids the opportunity to achieve personal empowerment through rugby.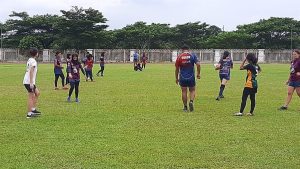 One of the most important sponsors of the JKRFC Juniors is the Priscilla Hall Memorial Foundation, a social welfare organization that has been helping underprivileged Indonesian children since 2004. Crucially, they are continuing to support the Komodos amid the detrimental effects of the COVID-19 pandemic.
Among the beneficiaries of this ongoing support are dozens of boys and girls from Karanggan Village, located 30 kilometers south of Jakarta, alongside the JKRFC Juniors' training ground at Jagorawi in West Java. In recent years, more than 70 children from five local junior and senior high schools have joined the Komodos. Among them were kids deemed "problematic" and "undisciplined" by their teachers. Some were expected to drop out of school, either because of poor academic performance or because their families faced financial pressures.
For these children, rugby has equipped them with skills that go beyond the field of play, giving them greater self-belief as they continue their educational and personal development.
Lopez was 14 years old and often in trouble at school when he joined the Komodos in 2018. Now, aged 17, he says rugby has enabled him to mature and remain in school.
I started playing rugby because people used to know me only because of my misbehavior; but after I joining the rugby team, I have become more mature, more courageous, and more positive. 
His comments are echoed by his teammate, Rafif (17), who says rugby developed his self-confidence.
Rugby has changed my life. At first, I didn't know many people. Now I am known because I play rugby and I've competed in many places. I've also become braver and more confident. I even managed to get into a good high school because of rugby.
Their enthusiasm is shared by the local girls who have joined the Komodos. Seventeen-year-old Sintiya, who has been playing for three years, says that although rugby is not a common sport in Indonesia, she loves the physicality of the game.
From rugby, I've learned a lot about discipline, courage and responsibility.
Her teammate, Siti (17), was able to continue her high school education thanks to her achievements in rugby, and her younger sister is now following in her footsteps. For them, being in the Komodos is like being part of a family.
Rugby has changed my life, making me better organized, more confident and more enthusiastic about living life because in rugby the spirit of family is very strong. Rugby has taught me about the true meaning of teamwork and shaped my mentality … Since I joined rugby, I feel more confident and it also brings me good fortune because I could enter the school of my dreams.
Sponsorship
Making such dreams come true is only possible with the support of sponsors like the Priscilla Hall Memorial Foundation (PHMF). Amid the ongoing COVID-19 pandemic, which has impacted training and placed financing pressures on local families, such assistance is more important than ever.
COVID-19 disrupted sports worldwide and the Jakarta Komodos were no exception, with training and competitions being suspended in 2020 and not resuming until September 2021, amid rising national vaccination levels and lower infection rates. The JKRFC now implements strict health protocols in line with government regulations and continues to follow public health orders.
Looking ahead to more rugby in 2022 and beyond, the JKRFC Juniors is grateful for the support from the PHMF. The Chairman of the JKRFC Juniors, Johannes Spies, says support from PHMF is critical to the success of the club's programs to nurture talent and change lives.
Many of our junior players managed to get sports related placements in good high schools. Some have been selection to play for the regional team and I am sure some will play provincial in the coming 2-3 years, which could lead to university placements. I mean, with rugby they can dream of university studies.
Equipment and Tournaments
This year, the assistance from PHMF will be used to support two proposed sub-projects, each of which has distinct activities that will benefit both the foundation and the JKRFC Juniors. The first sub-project involves buying rugby boots and mouthguards for the regular Karanggan Village kids. The most obvious benefit is that all of the players from the local village will feel they are being treated the same as non-Karanggan players, most of whom have their parents paying for these items. This inclusion will encourage even more local kids to join the club.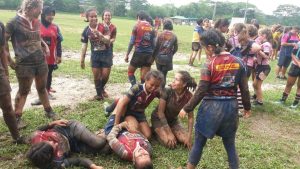 The second sub-project is a planned Youth Rugby Tournament to be held at the JKRFC Juniors' ground at Jagorawi, involving visiting school teams from Yogyakarta, Bali, Jakarta and other locations. These tournaments will bring in children of various backgrounds from many locations across the country,  providing much needed regular competition for all the players. Regular matches will also encourage more children to become involved in rugby and join the Komodos and other clubs and school teams.
PHMF's vision and mission are closely aligned with the JKRFC Juniors' values of teamwork, inclusiveness, courage and excellence. Teachers and parents of the Karanggan  Village kids have often commented that the children have significantly improved their academic performance after joining the Komodos. Many of the Karanggan kids have gained acceptance in good national senior high schools due to their performance in sport through rugby.
Also, the two proposed sub-projects will positively impact many underprivileged kids across the country, benefiting not only those who join the Komodos but also those in many other locations who will be inspired to get involved in rugby, excited by the prospect of traveling and competing in tournaments.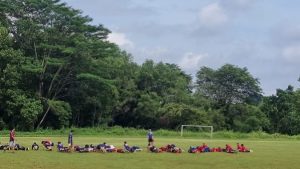 Our current season will run until May 2022. Although COVID-19 and its variants will continue cause disruptions to sports events, it is estimated the next season will commence in August 2022 with less hindrance. The currently registered Karanggan players have joined training sessions in late 2021 and expressed their enthusiasm to continue in 2022.
With the funding in place, the JKRFC Juniors looks forward to giving more opportunities to disadvantaged children to learn the valuable skills that can equip them for success in their future endeavors, on the sporting field, in school and their future careers.
One of the beneficiaries from Karanggan is 17-year-old Irsansyah, who says rugby has changed his outlook on life.
For me, rugby is not just a game, but also a philosophy of life that benefits true rugby lovers. In rugby, of course, there are ups and downs. When we try hard and win, we can see excited and happy faces; at other times, you experience disappointment, sad faces. Likewise, life has its ups and downs.
Female player Siti is grateful that rugby has given her valuable life lessons, saying the volunteer coaches have shown that she can achieve anything.
With the continued support from PHMF, more children can start to grow in confidence as they learn the qualities of sportsmanship, teamwork and self-discipline, bringing pride to their families, schools and communities, and opening opportunities for future success.