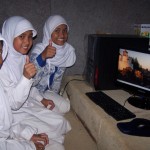 The Foundation first contact with Yayasan Puspita was in 2010 where they occupied a very small building in a crowded street. We were able to asssit them with a donation of 3 computers .. They had a dream of a larger Educational Centre which has been achieved. We recently were able to assist them with the funding of sports equipment . today we received the following e-mail which tells the  storey how their dream is now a in place .
As promised, here are a few photos of some of the children living at the Puspita campus in Bogor using the sports equipment generously donated by PHMF. Needless to say, the equipment has already been getting a lot of use, by both the boys and the girls, and it's proving to be a great way to get them exercising and keeping fit.
I am also happy to report that the Puspita campus is coming along very well. Since an Indonesian businesswoman donated two hectares of land in Bogor to Puspita, we have been raising money bit by bit to establish a high school campus that will enable underprivileged children who would otherwise drop out after primary school the opportunity to continue their education.
The New Zealand Embassy has been the major donor of the campus to date, sponsoring the building of a large classroom and teachers' accommodation, as well as a computer lab and library. Other contributors who have helped Puspita to build a girls' dormitory and a boys' dormitory on the campus  as well as making a contribution towards the monthly food bills include the Dutch women's association, Werkgroep '72, the Spouses of Heads of Mission Fund (SHOM),  the American Women's Association (AWA), and CrossFit Indonesia.
The Australian Embassy has also provided support to the campus, funding the purchase of equipment to use in vocational training courses that are part of the curriculum and, earlier this month, Puspita was honoured by a visit from the Australian Ambassador, Greg Moriarty, and his wife Sara. They received a very warm welcome from the junior high school students studying at the campus, along with the volunteers and teachers. Attached is a montage of photos from that day.
On behalf of Puspita, I'd like to thank you and your sponsors very much indeed  for your support for our work.