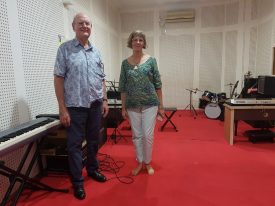 In January Erica & I were able to spend a morning at Rawanala to speak with the Board & Staff. Bought back memories of the work my Rotary Club & The Foundation had done in the 2009 period. But sad to see the challenge ahead after the flood. The band is a favourite  & it was so good that this room being higher had not been flooded.
PLEASE CLICK RAWANALA TO APPRECIATE WHY THIS YAYASAN IS SO IMPORTANT TO SUPPORT IN THE SPECIAL NEEDS  THEY PROVIDE. 
ANZA is assisting to manage the recovery that is so necessary. The Foundation will donate 50 Million Rp to start this process. If you can assist please contact :  anzasocialwelfare@gmail.com   who know the items that still need to be funded.