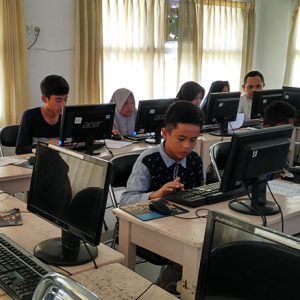 Since the beginning of the year, many secondary students enrolled in our courses.  Some of them came by themselves or were accompanied by either friends or parents. We are very pleased more number of people are increasingly becoming aware about the importance of using technology, especially computers.  This is also supported by the Indonesian government through introduction of computers, not only as a subject in school but they are used  to conduct exams as well.
Below are testimonials from Kamu and Lastri, who enrolled at YUM VTC Computer class:
My name is Kamu, I study at SMP 1 Sukaresmi in grade 9. I wanted to be able to use a computer before I entered high school. I hope YUM VTC will always exist, because it has been   a great resource for the youth in the Cianjur area. With the course fee being easily affordable, we can enroll in several qualifying courses. After 3 months, I am able to create wedding invitations and use videos and photos to make power point presentations. I have completed my basic computer course and I would like to proceed to the intermediate class. But I must   concentrate on my final exam first, post which I will certainly resume my computer course. Thankyou YUM.
I am Lastri, a student from one of the schools in the area. In future, I want to learn and become an expert in information and communication technology. Learning computers at YUM VTC is my first step to make my dream come true. I began with the very basic knowledge of how to turn on the computer, then learnt typing and to create an attractive power point presentation. Mr. Ryan, my tutor is very friendly and supportive. He is easily approachable and is willing to explain things any number of times when in doubt.