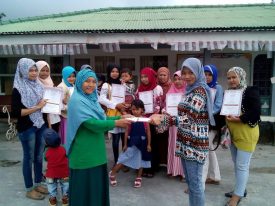 It's the fourth year the Priscilla Hall Memorial Foundation (PHMF) has supported YUM's activities. The progress is better and better each year and YUM is able to accommodate more and more youth in Cipanas to gain skills to support their own life and minimize the cycle of poverty in future.
The promotion and socialization activities at this term started at the beginning of April by visiting more than 10 schools in Cipanas, the area where Yayasan Usaha Mulia (YUM) served. The activities were fully supported by tutors. They visited the schools and socialized about the YUM-Vocational Training Centre (VTC).
We are very fortunate that in mid July, Ms. Lyn from Australian Volunteer International (AVI) started to support our projects at the YUM Village Cipanas. She has psychosocial, vocational and enterprise background. Almost every day she comes to our site and joins in each different activity we have. She helps YUM to develop and improve our human resources and by her initiative YUM-VTC held a workshop for the tutors to improve the quality in teaching.
On a regular basis, the activities are as follows: monitoring, maintaining and repairing tools and equipment that we use in conducting the training process. We have hired a specialist technician to check the equipment software and hardware, to keep our computers in good conditions. Since we also have the sewing class, the equipment and tools are also treated  the same. This is to make sure that when the new term started all the tools that support the courses are available and functional.
In the May/ August Term 111 committed students accomplished their course and were entitled to receive certificates. There were 37 from Computer class, 52 from English class and 22 from Sewing class.