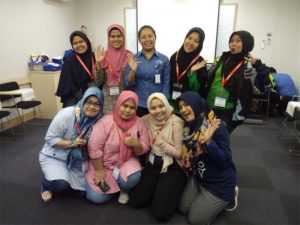 On September 24th, the two YUM preschool teachers, Miss Heti and Miss Desy, had a great opportunity to enroll for a one-day course in First Aid Training for Child and Infant Level I.  The course was organized by SOS Medika International. YUM was very fortunate to be able to send our two teachers through the initiative of Mr. Don Hall from the Priscilla Hall Memorial Foundation and fully supported by ANZA (Australian and New Zealand Association) Jakarta. 
The teachers found the training very useful for their work. There was plenty of information that was unknown to them. Through this training, they not only learn about the theories of First Aid, but also had an opportunity to practice under the supervision of experienced tutors. If they had any questions or failed to understand something, they could immediately ask the tutors. This experience gave the teachers more confidence to engage with the children especially the Pre-School students. Therefore during the next Parenting Workshop at the preschool, the YUM teachers will share their knowledge about The First Aid to all the parents. We hope that in the future if ever an incident happens, the parents will be able to give first aid to their children in the correct way.
Our utmost gratitude for Mr. Don Hall from PHMF who has been a great support not only for the  YUM Vocational Training Centre but also for several of YUM's projects. Thank you!