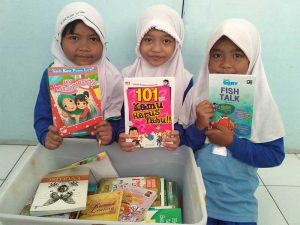 "Books are a window to the world" is a phrase that has true meaning: by reading a book, you will broaden your perspective on the world. You will have lots of new information, expanding your point of view and have more understanding about what is going on around you. There is no doubt that books are a substantial tool to our education.
In big cities, it is easy to find a bookstore or a library, and people can also access digital reading. The opposite situation befalls small rural areas of Indonesia. Even though Cipanas is only a three hours' car drive from Jakarta, people there live very differently. Struggling with their daily needs, it is difficult for parents to provide their children with reading material.  Furthermore, few schools in that area have a library. YUM's community library is the exception.
To reach out to more readers and impart long-term reading habits in the area, thanks to the support of the Priscila Hall Memorial Foundation through Mr. Don Hall and his team, in 2009 YUM started a program called "Box of Books". This program is part of YUM's Community Library activities. At the beginning, this program only delivered boxes to three foundations in the area that partnered with PHMF. But since 2012, the program has been expanded to deliver books to schools in the area. The duration for each rotation is also longer: before the box of 50-100 books would only stay 1 month in each location while now it stays 1,5 to 2 months, depending on the schools' activities. For example, during the time of exam preparations, the boxes need to stay a bit longer in each school.
Today we have 7 active schools, over 700 books in this program and 2,155 students accessing the books. We are most thankful to the Priscilla Hall Memorial Foundation that started this wonderful program that is of great benefit to children who otherwise would not have access to books.  Thank you! Thank you!