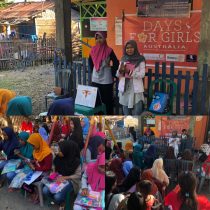 NURSES CONDUCT TRAINING AND KIT DISTRIBUTION
For the  Days for Girls program in the village of Sawe. They gave 50 kits with organic panty liners and gave education regarding menstruation, reproductive system and sexually transmitted diseases.  Harapan Sumbawa Project .
Hari ini hari yang ketiga program Days for Girls di desa Sawe. Kami bagi 50 kit denga pembalut organik dan kasih pendidikan tentang menstruasi, sistem reproduksi dan penyakit menular seksual.
  DISTRIBUTED 50    TO DATE 340  KITS