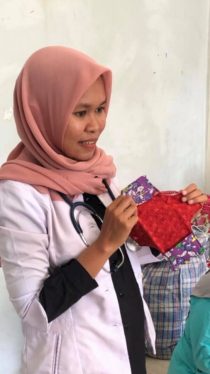 DISTRIBUTED 90 TO DATE 290 KITS
DOCTOR FROM LOCAL MEDICAL CLINIC DELIVERS TRAINING FOR KITS.
Today . We gave 90 kits with organic panty liners and gave education regarding menstruation, reproductive system and sexually transmitted diseases. Thank you so much to Days for Girls Australia and Priscilla Hall Foundation for your help. Harapan Sumbawa Project
Hari ini hari yang kedua program Days for Girls. Kami bagi 90 kit denga pembalut organik dan kasih pendidikan tentang menstruasi, sistem reproduksi dan penyakit menular seksual. Terima kasih banyak kepada Days for Girls Australia dan Priscilla Hall Foundation atas bantuannya.