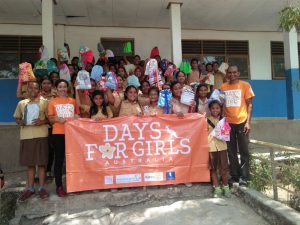 Sunday 4th November 2018, at Church St. Maria Pogo Lede, Tambolaka, South West of Sumba,  already held days for girls training and Kits distribution to 24 participants.
There were 2 teenager mentors, 22 teenagers and 1 DfG trainer from Harapan Sumba Foundation.
All participants were happy to receive kits and were interested in an explanation of reproductive health. A number of questions were raised by the participants regarding Kits and Reproductive Health.
(Distributed 24 to date: 256)