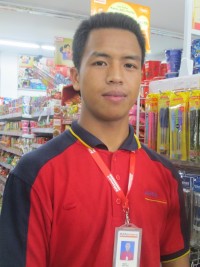 My name is Haris, I come from disadvantages family, my father is a farmer labor and my mother is a housewife. I am the fifth children from 11 siblings. My bigger siblings are elementary school graduated; meanwhile my little siblings are still in school.Since Junior Highs School, I stay in orphanage house, Al-Furqon in Cipanas. All of my school intuitions paid by the owner of the orphanage house.
I joined PHMF-VTC since 2011. I enrolled Computer and English Class; I also participated in several "Job Seeking Skill Workshop". Before join the Computer course, I was only able to use Microsoft Word. After enrolled in Computer class, I am able to operate most of basic computer application and internet.
My English skill   was average. I was very lazy and had no interest to learn English before, I found it very difficult and complicated. But since I enrolled in English class, I learnt more vocabularies; the tutor was also very helpful and motivated the students very well. Those made my confidence raised and encourage me to start speaking English.
The other thing that I feel really important in getting my occupation is the Job Seeking Skill Workshop. It taught me how to prepare myself in seeking the job, how to adapt with the work environment, communication, team work and manage office issues.
I am now working as the shop keeper at the Alfa Mart, one of the well-known supermarkets in Indonesia. Every day I handle different customers, from the friendly to the difficult customer. Sometimes my customer is a foreigner, since Cipanas is a tourism area, many foreigner comes here for vacation. I can easily communicate with them now. My computer skill helps me in doing the administration job at my work.Now, I have my regular income and able to help my family to fulfill their daily need. I motivate my siblings to continue their study and add up their skill. I hope that they could pursuit their dream.
Let me use the opportunity to show my gratitude. None of the things above could be done if I had not joined the PHMF-VTC. I am very grateful of making the decision for joining the program. I hope many youth will have the opportunity like I do, for a better future.