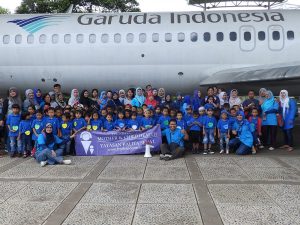 Every year, Pre School of Yayasan Balita Sehat Indonesia participates in a study visit to some educational places for kids. This year we visited the Museum of Transportation in Taman Mini Indonesia Indah, Jakarta.
Our goal was to increased the children's knowledge about transportation in Indonesia. This museum displays a variety of transportation modes through history and this transports role in nation building. The indoor exhibition is divided into several rooms showing marine and air transport. The museum displays original, clone, miniatures, photographs, and dioramas of transport.
We viewed various types of first-generation locomotives from Railroad Company Indonesia. Another interesting display was  a lighthouse made in 1879.
Our visit included 32 children, 3 teachers and parents. This educational excursion was very enjoyable.