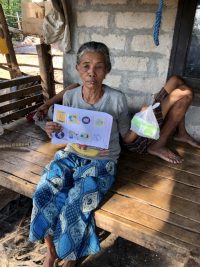 The Foundation has partnered with Carlos Ferrandiz of Harapan Sumbawa Project with the Days for Girls project for a number of years. Now due to Corona Virus the postage of kits had to be stopped as distribution is not advisable.
Carlos project fits The PHMF Mission Statement to assist under privileged Families. In the Indonesian Island of Sumbawa, the community of Hu'u has a very special reality; poverty, taught living and working conditions and lack of education live together around Lakey Peak. It's one of the best beach destinations to practice the activity that keeps the head of locals free of problems and worries: surfing. 40 abandoned kids at the beach find in surfing a way to forget their troubles, connect with the rest of kids and dream about becoming a surfing champion. Carlos is a Spanish lawyer who left his job, family and friends behind to move to Lakey Peak. He started his own humanitarian organization and fulfills the whole community with the fuel of dreams: hope. THE PHOTOS IN OUR NEWSLETTER CLEARLY REFLECTS THESE COMMENTS.
CORONA VIRUS is a major problem in the district of Hu'u that has a population of more than 12.000 people. THE FOUNDATION SUPPORTED THIS MAJOR PROJECT THAT CARLOS HAS UNDER WAY NOW. CHECK FACEBOOK. Details are below.
Provide 2 masks, 3 Soap bars, and document of corona virus information, to 1.000 families (the masks provided are to use in case a member of the family has symptoms, until they can be check up by a medical team)provide masks, glasses, 10 litters of Hand sanitizer and 3 litters of alcohol, gloves… to the local hospital and the local health center This is the first goal as I mentioned, I would love to be able to provide as much as possible to the hospital and health center and also to more families.
• 1 cloth mask
• 3 soap bars
• Document of prevention of COVID-19
SURGICAL MASKS (1 BOX = 50 MASKS) 60
CLOTH MASK 1.100
FACESHIELDS 150
SURGICAL GOGGLES 100
SURGICAL GLOVES (1 BOX = 50 GLOVES) 30
SOAP BAR 3.500
ALCOHOL 1 LITER 10
Have you looked at Carlos Facebook?