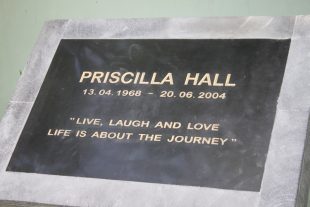 On the 20th June 2004 we learnt of the tragic news of the loss of our Daughter & Sister in an aircraft accident.  Also in the accident were three Indonesians & one Australian — all young men with families who did not survive .
We would like to thank & show our appreciation to The Jodie OShea Orphanage in Bali.  They have erected a plaque in their memorial garden for Priscilla.  Jodie OShea  was killed in the Bali Bombing . 
Alison Chester & Riyanto Samadi are very special people who established this well run orphanage in memory of Jodie . Check this information – Visitors & Volunteers are always welcomed at Jodie OShea Orphanage.