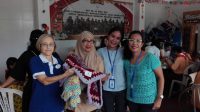 THE PHMF OVER TIME HAS ESTABLISHED EXCELLANT INDONESIAN PARTNERSHIPS WITH  EXPATS OR INDONESIANS WITH THE MISSION TO HELP UNDER PRIVALAGED ADULTS & CHILDREN. WITH THE HELP OF ROTARIAN RENEE OF THE UBUD SUNSET ROTARY CLUB WE HAVE BEEN INTRODUCED TO THIS FOUNDATION:
So on Saturday morning I once again went with the foundation " Kanaditya" who previously organised me going with them to Abandoned Babies home. This foundation is made up of a group of dedicated volunteers, in which my friend Debbie Lukito is one of the founders. They are dedicated to providing support, teaching, health education, activities for learning, fun, etc. They work with children and every weekend they will go to a different venue, be it the cancer children's ward at the public hospital, Abandoned Babies home, Disabled children home.
One of the big traditional markets in Denpasar where children are MADE to work by their parents from age 5 upwards!! They have a room at the top of one of the market buildings where the children gather, where they, sing, learn to read, draw , craft activities etc. many of the children there do not go to school, parents cannot afford to send them. So very diverse.
On Saturday it was the disabled children's home. Most of the children go to school as well, but 18 also live there. On Friday and Saturday in all schools in Bali it is "brown uniform" that looks like scouts. All children must take part , they learn various crafts. sports, camping etc. All children take part right up to leaving high school.
So you will see in the pictures the children are in their scouting uniforms, also the carers and teachers wear it. Saturday, Kanaditya provided bread, butter, chocolate sprinkles and what looked like "m and ms"!!! The children spread butter on the bread some was white some was green then using the sprinkle and m an ms made faces, flowers, words etc!! they had a great time and loved it. At the end the best from each of the 5 tables was picked and that child had to tell what they had made. Then it was decided who was 1st, 2nd 3rd 4th and 5th! Also provided by Kanaditya was prizes, EVERY CHILD got a prize. So 5th best got a water bottle and every child at his table also got a water bottle!! And so it went, there was lunch boxes, in different shapes, water bottles etc. Then of course the kids ate what they had made!!! So simple but huge fun for them, remembering some are also intellectual disabled!
I hope I have not been too long winded, but I think for everyone to know who I am going with, is important and what they do and of course I love being with the children etc! Debbie arranged for the delivery of the blankets to her home, paid for Grab car, also Saturday one of the volunteers picked me up as we were going to Jimbarin, so 3 of us went together. Sadly Debbie not with us, she is on a UK trip taking Indonesian folk-lore , stories etc to schools, workshops in London and Norwich, – she was the only Indonesian to get a grant, she is also a Children's book author!!
OK i think it may be obvious I also love to write, I write the articles for our Rotary club to our local expat free newspaper and also write the bulletin for our website!!
Sincerely on behalf of the recipients, their very grateful thanks!
Renee
THE PHMF appreciates the support from our home town Glen Innes Ladies who knit the LOVELY WRAPS.