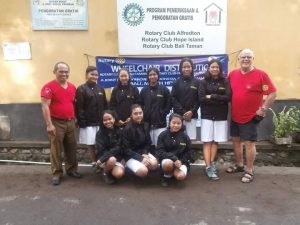 In addition to being taught Computer & English Skills the Students had the opportunity to assist others by being part of the Rotary wheel chair program  for people with disabilities around the area  of PHMF School. Rotarian Ray Bishop commented that the students were happy with this activity  because they could  learn  about  social life in that we need to care for  others. 
Here is a students comment: Made Kicik said " this is the first time in my life I can do this activity I am so happy because now I can open my eyes about other people in my surrounds "
The delivery of the Wheel Chairs was life changing & we share these experiences. A couple of recipients were traumatised because they had spent their life on the ground  and experience trauma when lifted into their chair. A little girl with leg braces was too small to help her father in the wheelchair. A lady cried when  told she  would now enjoy a new life if independence. —- THANK YOU ROTARY FOR CHANGING LIVES IN BALI.