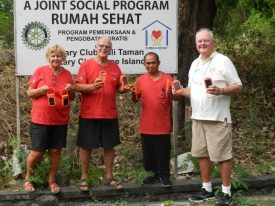 HOW IT ALL STARTED : The Foundation is pleased to have partnered with Rumah Sehat to build a Vocational Training Centre in Eastern Bali to teach Basic English, Computer skills & job interview skills to obtain work in the local Tourist Industry.
The journey on this project started in July 2015 when contact was made with Ray & Sue Bishop who had established The RUMAH SEHAT HUMANITARIAN PROJECT BALI with the assistance of Rotary Club of Hope Island a RAWCS  project.
Discussions where held re the benefit of having a school building on Rumah Sehat property for a Vocational Training Centre . The Foundation agreed to fund the school building. Work commenced in October 2015. 
A VTC has to have a fit out for desks ,computers ,etc. We received a telephone call from the YASS INTERACT CLUB wishing to visit a Bali project and they agreed to install & supply 15 Computers . Other donors assisted with additional Computers & desks.
THE first group of Students started in October 2016 . Further details of this Journey in following newsletters.