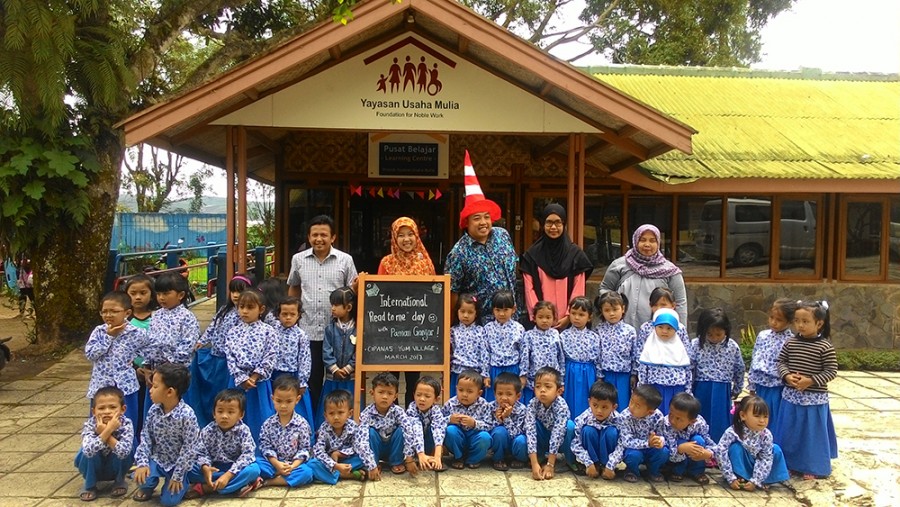 In participation of International Read to Me day, Yayasan Usaha Mulia invited Paman Ganjar, a professional story teller, to perform at Cipanas, West Java. This global event is about raising the awareness for the right of children to have adults read to them, especially their parents. Many organizations from all around the world participated in this.
The first session of this event was for the Early Childhood Learning Centre students. The range of ages of the children is from 4 to 6 years old.  Paman Ganjar read the stories "Big Giant" and "Strega Nona". The books are very interesting; they have beautiful pictures and appealing colors. Paman Ganjar used some tools to make his performance more attractive, including hats, glasses, puppets, and other props. He involved the children to sing and dance alongside his performance. The children were so happy.
The next session was for the older children, from the Elementary school grade.  The children are the members of YUM Community Library. When they heard about this event they were very excited. Most of them never had anyone to read for them at home. Even though it was  raining hard in the day, it did not stop their enthusiasm in coming to YUM. Paman Ganjar read the story about "The selfish man." The message of this story is to teach the children about the happiness that they will get from sharing.
Thanks to Mr. Don Hall from Priscilla Memorial Hall Foundation as the Ambassador of this program, who has invited YUM to participate. This event is an excellent step to increase the reading habit of the community. We hope you also had a Happy International Read to Me Day!