You are here: Home // Regular Projects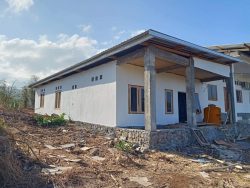 Priscilla House is being build for Volunteers to assist Carlos to introduce new programs.  Regarding the number of rooms in the building, there will be: – 3 bedrooms (for 2 persons each) – 2 bathrooms – 1 kitchen – 1 living room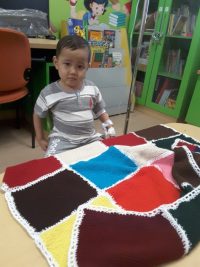 Tini gave a wrap to four year old Farel. He has leukaemia and is being treated at Dharmais hospital since July this year. Farel is the youngest of 3 children and comes from Tasikmalaya, West Java (about 7 hrs drive from Jakarta). As Farel continues his treatment, YMCKK are sure the wrap made with love,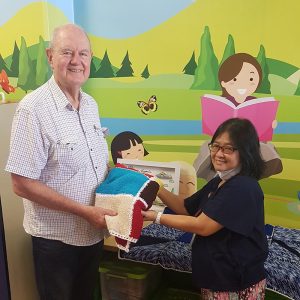 Ibu Fatini Bong, a volunteer with Yayasan Mari Cintai Kanak Kanak (Let's Love the Children) was delighted to receive 'wraps with love' from Don Hall/PHMF.  The beautifully handmade wraps will be given to young cancer patients during their stay at Dharmais Hospital, Jakarta.  Often when receiving chemotherapy treatment, children may run a fever causing them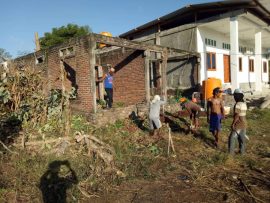 These are the details that were indicated in a previous newsletter of the starting point for the project .This stage has now been completed. 1. –Clean the building of trees and vegetation: The passage of time has provoked that several trees have grown inside the building. 2. –Change the frames of doors and windows: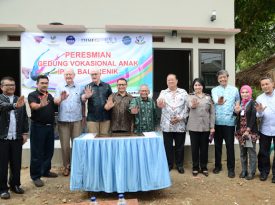 Don Hall visiting from Australia was with committee member David Adams able to attend the opening of a major Foundation project . This is a storey told more by photos. The quest list covered not only ANZA but key Government Representatives from Jakarta & the District. This highlighted the benefit & importance the project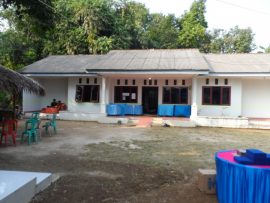 The Foundation since 2005 has partnered on many projects with ANZA to make a difference. A committee member in this case David Adams does a report. Here is David's report completed some time OK. Yayasan Balarenik is a community based organization and was established on 18 December 2000 by a group of social workers.