Catherine Booth Orphanage is a home for girls under the management of The Salvation Army Indonesia. A home for currently thirty girls at the age of five to eighteen.
The facility was built to house one hundred girls but with lack of funds and other problems, it is merely a big building with a lot of beds and very limited tools especially those to help the girls to study with.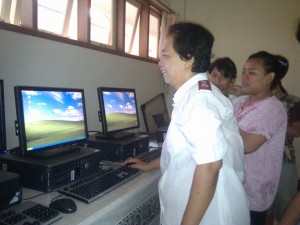 Priscilla Hall Memorial Foundation received five computers from Macquarie Bank of Australia in 2010 and with the help of Crown Relocation those computers were sent to Indonesia. Three of the computers were given to the girls at the Catherine Booth Orphanage with extra help from The Glen Innes Rotary Club which funded the additional cost for the softwares and other necessary peripherals to make sure the computers could accommodate the need of the girls to study and complete their school assignments.
Mr. and Mrs. Dalenta the house managers were very thrilled to receive such support. They have been under great concern to the fact that they must allow the girls to go out to some internet cafes just to do their home works, sometime until quite late at night because there are not so many internet cafes available nearby. The girls often must queue behind some boys playing online games, mostly for hours.
It brought us a big smile when the girls were so enthusiastically chat about what kind of picture to set as the screen wallpaper while we were busy plugging the cables. They needed no cue to start personalizing the computers as soon as we finished.
Now we can breath a little lighter knowing some thirty girls are expanding their knowledge and computer skills at the comfort and safety of their own home.