Starting from Friday April 16 to Sunday April 18 2010, Priscilla Hall Memorial Foundation sponsored another training for teachers which held by Desa Anak-Anak Vocational Training Center (Yayasan Usaha Mulia): Train The Trainers – Student Centered Teaching Methods for English Classrooms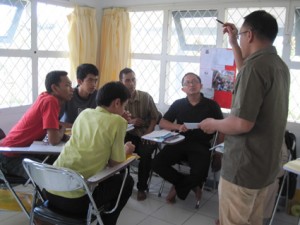 Participants came from seven local foundations, diverse from teachers, tutors and foundation care takers who all are fascinated in teaching and English.
Ms. Vanessa Hewson, the workshop trainer, is an AusAID Volunteer for Australian Youth Ambassadors for Development with 1 year contract as a Youth Development Officer at DAA and Teacher Trainer at VTC.
She has been living in Cipanas for 9 months, training the VTC teachers in Student Centered Teaching Methodologies
She has tailored this training to incorporate what she observed to be the most effective methodologies for an English Language classroom.
Held at Desa Anak-Anak in Cipanas – Sukaresmi, Jawa Barat, the project objectives was:
To strengthen existing local foundation run English classes by providing student centered strategies to Teachers and Tutors to make their classes more interactive, more inclusive, and more fun;
To educate Teachers about the importance of unit and lesson planning when teaching English;
To educate Teachers about the variety and range of learning styles and how to cater to different learning styles in the English language classroom.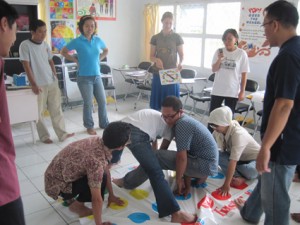 Project Evaluation and Responsibilities:
It is expected that Teachers and Tutors will begin implementing what they learn at the workshop in their classes and share their new understanding of unit/lesson planning, learning styles and game making with other Teachers/Tutors at their Yayasan.
It is hoped that Teachers/Tutors will continue to remain in contact with each other once the training is finished, to encourage stronger relationships within the Yayasan network.
As this is a pilot workshop Trainees will be asked to take part in a feedback session, to ensure we take on-board the workshops strengths and weaknesses for future training.
Our foundation believes that the quality of educators is an asset, therefore enriching their skills would be a great investment for the future of the children.