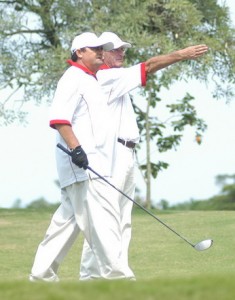 The 8th annual golf tournament for Priscilla Hall Memorial Foundation was recently held in December 2011 in support of the mission of the foundation: "To provide direct and on-going assistance to Indonesian children in need, with a focus on meeting their basic nutritional, shelter and educational requirements."
Hosted by Mr. Stewart Hall, one of the founders and chairman of the foundation, the event was attended by 130 keen golfers (and generous donors!..) including senior business executives from various industries. This event has become increasingly popular, year by year, and is now considered one of the most anticipated events of the year in golfing calendar, which is why it is becoming an invitational.
Most participants, including Mike Arnold, President Director of Crown Relocations Indonesia, as the Lead Sponsor commented that they are really pleased with this professionally organised event, with lots of surprises and fun, and even more so with the entire proceeds of the event being used to help a lot of children in need.
Using Four Man Team Texas Scramble format, the event required solid team work and all teams were in good spirit to deliver their best performance. On hole # 4, there was a New Ford Everest sponsored by PT. Ford Motor Indonesia as well as on hole # 8, PT Trans Eurokars Indonesia placed a New BMW 3 Series up for grabs  as hole in one prizes ; but no one managed to claim it until end of the day.
The highlight of the evening was the Charity Auction, with 22 items on the Live Bid going under the hammer. The various items included paintings, villas in Bali, holiday in Bangkok, golf & rugby memorabilia, and latest flat television & gadgets which went down really well.
All in all the whole programme was another big success, this year the tournament raised a total of Rp. 327,320,350 from sponsorships, ticket entries, auction – mainly, and donation through pledge cards, which was quite a fantastic figure given the current circumstances.
Every one had a great time, and felt even better knowing that they have played a fun golf day, and at the same time supported such a good cause and made a different to young Indonesian children's lives.    (By Isma Wootten – Golf Events Indonesia)
TOURNAMENT RESULT :
1. Longest Drive – Hole # 14 : Mr. James Bryson, Distance :  236,8 M
2. Nearest to The Pin – Hole # 17 : :  Bapak Mufti Habriansyah Distance :  105 CM
3. 2nd RUNNER UP
Team    : Aberdeen Asset Management
Players    : 1. Chris Ellyat   2. Chris Healy   3. Stephen Dougherty    4. Nick Hado
Gross : 59        H'Cap :  6     Net :  53 ( On Count Back )
4. RUNNER UP
Team    : Wall Street Institute
Players    : 1. William Daniel   2. Timothy Bain   3. Michael Seward   4. David Braithewaite
Gross :  60    H'Cap :  7     Net :  53 ( On Count Black )
5. WINNER
Team    : Amanresorts
Players    : 1. Monty Brown   2. Sean Flakelar   3. Graeme Harley
Gross :  61    H'Cap :  9    Net :  52