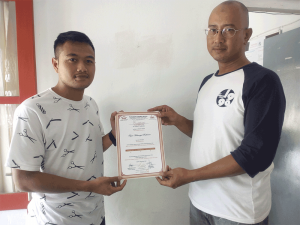 Besides funding received from PHMF, the YUM Vocational Training Centre (VTC) in Cipanas continues to find ways to generate income in order to remain sustainable. One of these programs is by offering private classes, for both the English and the Computer class.  We realized that the need to learn about these two skills is not only important for the students at school but also for college students, workers and unemployed people. This term there were two students enrolled in computer class. Below is the story of Ryan who took 4 days to study in the Intensive Computer course with Mr. Ryan, YUM's Tutor.
"My name is Ryan and I am a university student, my major is Agribusiness.  I am working on my final paper right now, and if I could finish it this semester then I will graduate from university. I once learned how to use the computer, but I did not really master all of the applications. I am only good at using Microsoft Word. I realized the importance of being able to understand and use the computer to support me in finding a job. I chose to take a private class because I only a few hours per week to study computer. YUM's environment is very comfortable to learn and is located in a strategic area, easy to access. My tutor, Mr. Ryan is a kind person and very patient. He did not mind repeating the lesson from the previous day, if I sometimes forgot.  The computer is also connected with the internet and it helps me to find some information related to my final paper."
YUM would like to express gratitude to the Priscilla Hall Memorial Foundation who has been a great support all of these year. The support that we receive not only comes from the funding but also from the generous advice and suggestion about the courses development. This private computer class is one of the ideas we received. Thank you PHMF!