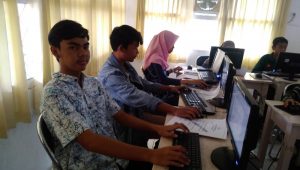 Promotion and socialization activities for the Computer classes started back in January. The VTC staff together with the tutors promoted the course to 6 different schools in the area. Promotions included powerpoint presentation and testimonial videos from VTC's alumni. Unfortunately, not every school gave us permission to present about the courses, mostly because the schools were preparing for the final exams. For these schools, we left brochures with the address and phone number of YUM's centre. They may contact our staff to get further information and come to the VTC building to see the facilities.
There were 2 Basic and 1 Intermediate Computer classes these last 2 terms.  Because the students' levels varied, the tutor was a bit challenged in teaching because the ability to absorb the lesson for each student was different. For most of them, this was their first time engaging with a computer. To overcome this, YUM's tutors arranged the student's seating position and made small groups. It made good interaction among the students and they can help each other to understand the lesson. The other challenge was the climate; the rainy season affected many of the students' presence.  
These last two terms we did not run the Job Seeking Skill Workshop because most of the new participants are lower secondary school students and housewives. The workshop does not apply to them as they are not currently applying for jobs. Meanwhile, the higher secondary students who are continuing to the second term will have a workshop at the end of the term. 
In total from this length of time, there were 271 students registered for the courses; 99 in the Sewing class, 49 in the Computer class and 123 in the English classes. Some of the students are also YUM's School Sponsorship beneficiaries. Beside regularly getting support from YUM, they are also able to enroll in VTC classes with no charge.